What To Sell On eBay
The best thing to sell on eBay is probably one of the most asked question from eBay sellers.  There is no definitive answer because you can sell almost anything on eBay but from a starting point for most new eBayers is to sell what you have already got around your home and whatever you can pick up in thrift shops.
Some product sells very well and it's always best to start with a few winners before you branch out to spending money on higher price items to sell.
Here are 17 winners that I've put together that I think you can start your journey to make money from eBay. They are not in any order, they all sell great:
Printer Ink & Toner Cartridges
Printer ink & toner cartridges are in great demands.  Printer Cartridges gets search Volume of 49,500/mo.  at a CPC of $5.91.  This is a very competitive niche but high on demand.  You can still sell it on eBay.
Calculators
Calculators, specifically Texas Instrument Calculators sells very well on eBay.  These calculators will sell quickly, take a look at this one  TI-84 Plus SILVER EDITION GRAPHING CALCULATOR Texas Instruments YELLOW TI84+ SE sold $49.99 at ebay.com US last week.
Shoes
Shoes like Bally shoes can be bought for $1 and sells for $50-$70.  Great place for new resellers, however the shoes must be in good condition.
Continentals by Bally Of Switzerland  – sold for $21.00 pre-owned.
Sporting Goods.
Sporting goods such a Baseball gloves are great for resell.  You can pick them up for $1 and sell for $20
Lot Of 3 Baseball Gloves Softball, Louisville Slugger, Rawlings, Wilson Mits  – this is a pre-owned glove sold at eBay foe $10.
Sunglasses
Sunglasses are great sellers but the branded once goes for higher price.  Make sure the lenses are not scratched. Also buy authentic glasses not fake.  Go on YouTube or google it to learn how to identify the real deal from the fake once. Ray Ban RB2180 710/73 Tortoise; Brown Classic B-15 Round sunglasses AUTHENTIC.  This was a pre-owned glass sold for $65.00 at eBay.com US.
Video Games
List of vintage video games such as  N64 games, Super Mario's Bros, King's Quest, Centipede, Pokeman and Asteroids etc sells well.  Test the games before you buy them.  The older the video game, the better it sells.
Pokémon Stadium 2 Nintendo 64 N64 Original Authentic Video Game! Was sold for $41.77 at eBay.com US.
Security Systems
Security system and cameras sell very quickly.   You can buy them for $100 and sell it for well over $200. The net gear Arlo was sold at eBay.com for $232.50 pre-owned.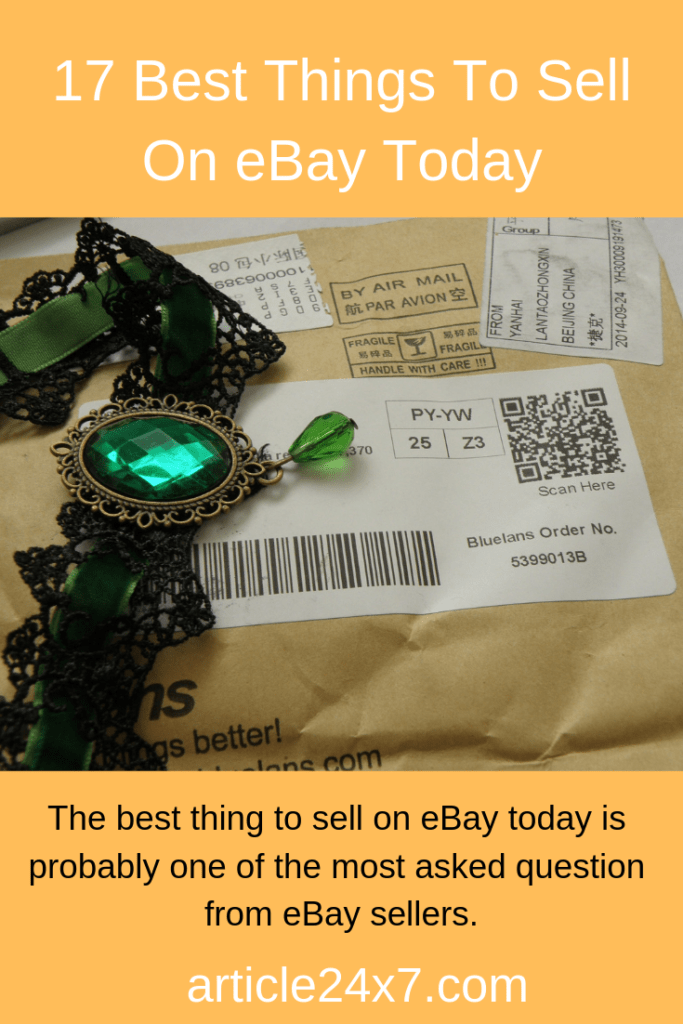 VCR or VCR DVD Recorder
VCR or VCR DVD recorder can be getting hold up for $5 to $10 and can be sold for $100 – $200
Magnavox ZV427MG9 VCR DVD Recorder – VHS to DVD – HDMI – Parts or Repair .  This was sold for $69.99 at eBay.com for parts.
Car Radio
Car radios can be bought for $5 -$10 and you can sell them for up to $50 especially if it is a branded product from one of the big manufacturers like BMW and Mercedes.  If you can offer money back guarantees, it will sell quickly.  This Alpine OEM Stock Lincoln sold at eBay for $65.00.
Vintage Bank T-shirt
Vintage Band T-shirt from 80s and 90s also sells very well.  You might find them in thrift shops, they may only have been worn once or twice.  You can pick up a bargain from $1 – $5 shirt and it can be sold for up to $100.
METALLICA Vintage T Shirt 90's CONCERT 1992 TOUR Stage Set HEAVY METAL ROCK Band.  This pre-owned t-shirt was sold at auction at eBay for $70, with 22 watchers and 17 bids.
Bags, Purses and Computer bags
Bags, purses, computer bags, high end bags can be bought $10 sell for $100.  This pre=owned laptop bag was sold at eBay.com for $75 with 3 watchers.
"Timbuk2: Hudson Laptop Briefcase" – Business Traveller – computer bag&ipad
Watches
Watches – Look for well-known brand and for vintage watches look for old school Timex and old school Casio's.
Timex Ironman Triathlon T5k557 Red Digital 200m 30 Lap Shock Watch #A31. This pre-owned Timex sold for $33.00 with 3 watchers.
Plushes
Plushes or Plushe toys, category like Disney's are a really hot topic.  You can get them in thrift stores for $1 each and sell them for up to $20.
Carters Child Of Mine Plush Wind Up Musical Grey Gray Elephant Baby Toy .  This used Plush Baby toy was sold for $15 with 4 watchers.
Vintage Toys
Vintage Toys – GI Joes, Nineties Power Rangers can go for $58 like this one which was sold for $58 at eBay auction with 13 watches and 13 bids.
Vintage Marx General Custer With Box/Instructions – Fort Apache Fighters – 1968
Vintage Electronic
Vintage Electronic – Walkman, iPod, recorder can be sold for $40-$50.  This deck below was sold for $84.99 at eBay BIN.
GO VIDEO DV1130 DVD/VCR Dual Deck VHS Combo Player Recorder W Remote Great Cond!
Blank Media
Blank Media – it must be new and sealed.  Blank VHS are worth money as a lot of people stock them. This tapes was sold at eBay BIN for $42.00 MICRO SONY CASSETTE TAPES MGR 60
Sport Memorabilia
Sport Memorabilia, t-shirt, goggle, jerseys, people collect vintage jerseys.  Must be authentic. This one was sold for $40
OAKLAND RAIDERS, VS. DENVER BRONCOS. 1966. 3-Piece Tickets. Sports Memobilia.
So there you go, 17 great product ideas to get you teeth into and start making some money today.  Please comment below and let me know if you think I may have missed a gem somewhere.