Google Keyword Rank Checker
A key advocate of Search Engine Optimization is the correct keyword to allow you to rank highly on the search engines.  To check for Google keyword ranking position, you must first select the correct keyword to target, then write a compelling article to target that keyword.  Many bloggers write article and publish them without targeting a specific keyword or any keyword at all.
How Do You Get A Top Ranking On Google?
There are many free Google keyword rank checkers online that would do the research for you so that you can target a specific low competition keyword with lots of searching to help you rank in the top page of Google search.
Keyword Position Checker in Google

Keyword Position Checker in Google is a great tool used to find the position of your website or URL in the search engine. It help you to check your  keyword ranking position in Google search engine.
Here are 5 keyword position checker tools that you can use to quickly check Google keyword ranking position for your keyword in minutes:
SEMrush is an excellent tool to use to find out the keywords position of a posts. It does keyword research and can track the keyword strategy used by your competitors. It can track and run SEO audit and looks for backlinking opportunities wherever they are for your blog. You can use SEMrush to check the position of your keywords as well as which keywords are ranking.
You can check on your competition by entering the URL of any site or page and get the information about that website or page.  You can Try SEMrush for FREE 7 days trial.
You can track up to 10,000 keywords with Ahrefs Rank Tracker on your desk to or mobile phone.  You will also be able to see which keyword are sending traffic to your site. It let's you monitor your sites Google rankings on your desktop or mobile in over 170 countries. It has been said by many internet marketers as the most accurate traffic tracker on the web and you can start a seven days trial starts from $7.
SEO SERP workbench is used by bloggers to check the google ranking position of their keyword in google search engine.  This is a free Chrome version that allow you to quickly check the position of your site and your competitors site for any given keyword and analyse and make comparison with your competitors to improve your rankings.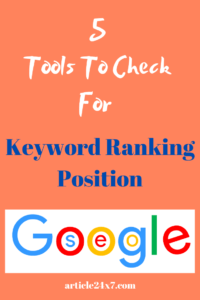 Rank Checker is a Firefox extension by SEObook.  This is an open source software and the extension is hosted on your PC. "Looking at the rankings of a couple of your sites that you know intimately well and tracking how they change over time allows you to
learn how to read the search results
appreciate and understand general algorithmic trends
be one of the first people to know when the relevancy algorithms change in a major way
This tool is designed to be quick and easy to use, but to also give you the opportunity to gain the level of insight needed to compete with other SEOs at the professional level.
Moonsy is a powerful free tool that allow you to check google ranking position and google keyword ranking position of your site as well as your competitors. Mooonsy rank checker is a free tool that lets you check your ranking as well as your competitor ranking, and it is dedicated to find a; ranked pages of you site with any specific keyword and domain name in google. Most importantly this tool free to use.
For more how-to and inspiration articles take a look here:
Google Traffic Research Tactics In Affiliate Marketing
Targeted Traffic Guaranteed Targeted Traffic
Are You Using This Long Tail Keyword Traffic Strategy
Online Traffic Strategies That Guarantees Floods Of Targeted Traffic