Money On Facebook
If you're wondering whether Facebook fan page is still working or not…The answer is – Yes! In fact, it is growing rapidly in 2019.  If you haven't made money on Facebook yet, you need to read this to help you to start making money now and in 2020. You see, it's actually very easy to make money with the Facebook fan page if you do it correctly.
The thing is, no one will ever show you a real fan page that is making money online. Even if you found a fan page that is generating cash, you will never know the strategies behind it.
Here's the good news, you will find here 15 ways to make money on Facebook pages now and in 2020:
Make Money on Facebook posting links!
Most people when shopping online these days expect some form of cashback.  That's where Ebates comes in, they pay you for referring traffic to their site. That's how you make money with Ebates. Referral bonus!
The more people you refer to the site the more bonus you get.  All you need to do is refer your links on Facebook and get you friends and family to sign up with that link to get your $5 bonus. The good news is that your friends and family also get  to earn cashback whenever they buy anything online using Ebates.
Facebook Shop
How to make money with Facebook apps using Facebook shop by Storeya.
Facebook Shop is a shopping apps to help you sell stuff online. This app help e-commerce store, a small website and storefront import the entire store and all its products to a Facebook page under a "Store" tab.
The app has free and paid versions. The free version is limited.
Magic Moments
Magic Moments was created by Cafepress (the site that lets you create and sell customizes t-shirts, mugs, hats, etc) to help users take pictures and videos of their products and sell them on the platform easily.
Garage Sale
Garage Sale app is a virtual garage sale that makes it very easy to sell used items to make side income.
Zazzle
Zazzle app has a very neat feature – using its "My Merch Store" feature, you can market items you create not only on Zazzle.com but also on your Facebook page.
eBay
The eBay Facebook app allows you to promote your eBay listings on your Facebook page.
Sell stuff through local groups
Local Buy & Sell groups on Facebook is a great option. You can join your local Buy & Sell groups in your city and start selling. If there is none in your city, why don't you create one.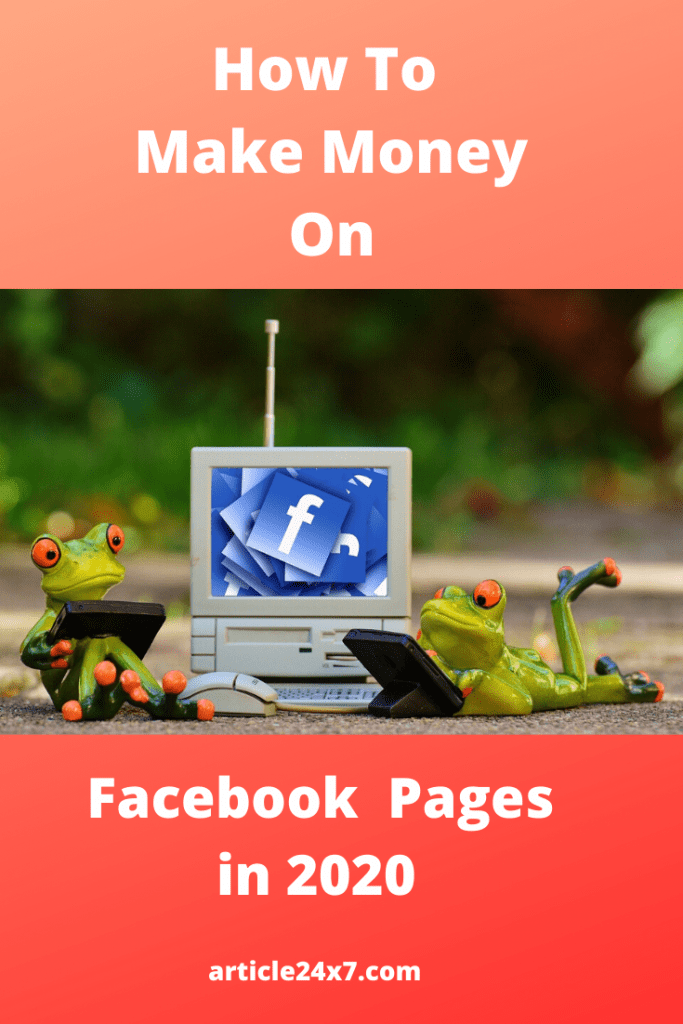 Related article: 47 Incredible Ways to Make Money Online in 2020 
Post an ad on your Facebook page
You can sell on your Facebook Page by creating a post about your item, add some pictures and sell.
Sell stuff on Facebook's Marketplace
Facebooks online marketplace is another avenue to sell your stuff. It's a great platform for selling goods.
You can sell a variety of items, from books, clothing and even gardening products on Facebook's Marketplace.
Related article:
Find and Promote relevant products as an affiliate on Facebook. Every time someone click on your link and buy, you get paid a commission.
The best part about this is that once that post and the link is up, it can generate commission for you for as long as the product is available. It becomes a passive income source.
Publish a Facebook Kindle eBook
Think of the elderly and the less techie folks. Amazon's Kindle is a great place to publish an eBook guide on Facebook pages for the seniors and less techie folks.
Blog about Facebook
Another way about making money is blogging about Facebook, it has the potential to make you money.  To make money, you could display ads, sell sponsored posts, and you can offer Facebook-related services on platform like Fiverr, Upwork or Freelance such as setting up fan pages, designing profile page designs, etc.
Develop your own Facebook related app
If you can code, creating a Facebook related app. It's a great way to make money and help users. Furthermore, you can hire freelance developers on freelancing site to design and develop the app for you.
Become a Facebook marketing expert
If you know the how Facebook social media marketing works you can utilise your knowledge to make money.  Your marketing tactics and strategies on Facebook can help you sell your services as a Facebook marketing specialist.  You can help businesses promote and grow their Facebook pages to reach thousands of potential customers.
Sell Fan Pages
You can make good money by offering customized fan pages to businesses such as designing a custom graphic, images and writing a few sentences about the company.  You can use freelancers to do most of the work for you.
What if… you can go behind-the-scene, access to a real life secret fan page that has been proven to make money online and learn the strategies behind it? Access this case study video for free! Imagine making money whenever you make a post on your fan page – each and every time. This is NOT a theory based video. Make sure to access it now before the video gets removed!