Make Money Online Flipping Domain

Do you want to make money online? There are many ways to make money online, but none are as uncomplicated as domain name flipping. If you are excited about this idea, read on to find out one of the easiest ways to make money online.
Currently, there are many options to make money online, but none are as easy as domain name flipping.
Did you know that domain name flipping can be done in a very simple 2 steps method?
Buy the Domain Name
Sell The Domain Name
A domain name is the address of a website and the process uses a component of a uniform resource locator(URL) to mark and allocate the website address.
Although Domain names are referred to as website addresses, domain names are so much more. When you know how to choose a domain and use them, they can be a very profitable business concept.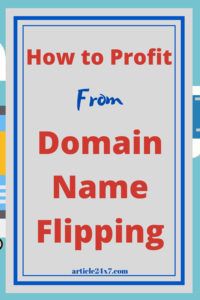 Domain names can be turned into a very profitable money-making tool.
How? 
Consider these 3 ideas
1.Invest in website development
(a) Buy a domain name, work to establish the website and then hold on to it and profit from it.
2.Invest in domain name parking
(a) Here, the website owner registers a domain name. Then, with very little cost, they do nothing more than sit on it and try to sell it to those that may be interested in buying it.
(b)Parked domains, which are not in use, can be monetized with special pay-per-click programs designed for parked domains.
3.Invest in website flipping
(a) Here, you buy the domain name and start to develop the website.
(b) Once you have some level of secure footing, you can then sell the website at a profit.
So, do you want to make easy money with domain names? Whether you park the domain name with advertisements, use it, or flip it, the name you choose is very important.
What is Domain Name Flipping
To profit from a domain name, a simple word or phrase will not do. It needs to be catchy, as well as meet other criteria.
Always opt for a domain name with a .com address. Yes, there are alternative address endings available including .tv, .co, .net,. org, i.o and so forth, but try to avoid them.
Internet users instinctively type in .com. Even in cases where they know the website, most still type in .com by habit. Dotcom addresses are more profitable to use and sell.
When you create a domain name, avoid dashes. If your sole purpose is to flip a domain name, it's possible to try dashed names, but if you can avoid it, do so.
This is because typing dashes into an address bar is an inconvenience for internet users; thus, not as profitable.
Related articles:
How To Find Expired Domain Names With Free Traffic In 2021
31 Sensational Small Business Ideas To Start In The New Year
47 Incredible Ways to Make Money Online in 2020 
https://article24x7.com/find-and-buy-expired-domain-names-with-free-existing-traffic/
If you intend to make money through domain name flipping or parking with advertisements, buy more than one domain name. Not only that, buy variations of the name.
For example, you may have heard of a new car dealership opening in your area. Attempt to buy a domain name before the owners get a chance. Snap up all their options. Make it so that they can only buy from you and for more money.
For example, consider LAtruckdealers.com, LAtrucksforless.com, and so forth.
Do not just guess on good domain names, but research them. The best domains to sell or use are those that contain popular keyword phrases.
For example, Online Marketing and Make Money are popular keyword phrases. Internet users search the internet looking for information on these subjects.
If you want to make money writing about "make money online" or "online marketing" you will get a higher search engine ranking if those keywords are in your domain name.
For example, if Makemoney.com has already been taken, you can still consider something like Makedollars.com which is available at the time of writing at a discounted rate of $0.99. There is also Makemoney.net. But, it will cost you $6,704.47, this is why research is important.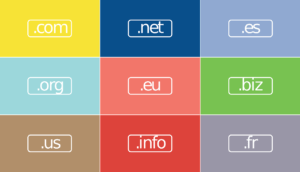 Domain Name Search
Some tools can tell you what internet users are searching for which would help you find profitable domain names.
Good domain names will match the phrases used. Domain names with popular keyword phrases are the most profitable to flip.
In addition to researching popular internet search phrases, register domain names for popular topics. The names of popular movies, books, and people are likely already registered. Before giving up, consider variations. For example, instead of HighSchoolMusical.com, try HSMfan.com.
Ultimately, you need to choose a short domain name. Never use more than 20 or 25 characters. Internet users are more likely to remember short names only. Those short-named domains are easier to flip and profit from.
How to Choose a Profitable Domain Name
Before highlighting ways that you can profit from domain name flipping, it is important to understand the process.
When building a website, internet users buy a domain name. That name is the website's identity marker.
Since the internet is filled with much personal use and business websites, domain names are running out. Yes, there are much more available, but most of the good ones have gone. This means slim pickings for some.
How does this benefit you? It gives you an easy way to make a profit.
To profit from domain name flipping, luck and research are required.
Some website owners let their domain names expire. Buy it and they may pay a lot to get it back.
In short, domain name flipping is like House flipping. An investor takes a house, restore it, and resell it for a profit. Flipping domain names is the same, but there are less work and fewer start-up costs.
Where to Buy Domain Names
Domain.com
Bluehost
GoDaddy
Namecheap
Google Domains
As before, domain name flipping can be done in 2 easy steps. The first step is to buy a domain name. This is the easy part. With a credit or debit card, anyone can buy a domain name.
To improve your chances of making a profit, don't opt for any domain name. Instead, choose wisely. Look for expired domain names, those that use popular keywords like games, flights, cheap, money etc. and those that are in demand.
When registering a domain name, provide all information. Many people running personal websites opt for a program that keeps their identity hidden. You do not want to do this.
If someone wants to buy your domain name, they need to contact you. Listing a domain name for sale isn't the only selling option. If someone wants your domain name bad enough, they will approach you.
Profit From Domain Name Flipping
The next step in profiting from domain name flipping is optional.
That step is parking your domain and monetize it.
Although optional, this step allows you to make money during the process. Some companies, such as Sedo.com, have pay-per-click programs for parked domains.
Essentially, advertisements will be displayed on the page that accompanies your domain name. When a click is made, you make a little bit of money.
The final and most important step of domain name selling is to sell. Luckily, you have many options. The most popular is to sell on a third-party website. This is a website that not only lists your domain for sale but assists with marketing. More people are likely to see your for-sale listing. The only downside is that you must pay a fee. That fee can be a percentage of the sale or a monthly listing fee. Here is a list of:
Domain Name Registrars
Godaddy Domain Registrar
Flippa Marketplace
Sedo Marketplace
NamePros Domain Forum
Cheap Domain Registrar
Efty Website
eBay Marketplace
BrandBucket
Above Website
Thinking about where to buy your next Domain Name? Why don't you try NameCheap.com here!
Flips Websites for Profit
To sell a domain name for free, advertise online. You can post messages on free classified websites, like Craigslist.org, or on online forums. Many internet marketing forums have a buy, trade, or sell section where you can post and  flip website for profit for free.
Now that you know how you can make money with domain name flipping, it is important to know how to make big profits.
First, don't expect to make millions. There is a big misconception surrounding this money-making opportunity.
Some domain names do sell for hundreds of thousands of dollars, but they are rare. Instead, try to make at least $50-$100 a go. The key to making money with domain name flipping is to make many sales, to allows you to turn $100 profit into a $15,000 profit.
When you buy a domain for $10 and you sell it for $100, that's $90 profit. Do this 99 times more and you are looking at a profit of $9,000 per annum for a few hours work.
It is always best to know the value of your domain name. Selling a valuable domain name sale shouldn't be rushed. Even if you hold on to the name for a year, don't undersell.
Finally, whatever Domain name you choose, start your journey with the suffix .com. This gives your Domain credibility, as many practician still prefer to Dot.com to other type of suffix.
Make money flipping domain names!
If you're ready to start making real money online flipping domain names, then you need to take a look at this domain flipping guide.
This method really works. You will discover exactly how to buy, price, and sell domains names for profit consistently. Grab the guide here!